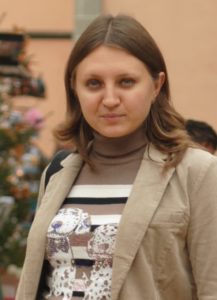 Associate Professor Department of Higher Mathematics, IEEE Member, PhD (Candidate of Physical and Mathematical Sciences), Associate Professor
Education and Career
2005-2010 – M.S. Student in Physics  and  Mathematics, Kharkiv National Pedagogical University, Ukraine. M.S. degree with  honours.
Nov. 2010 – 2013 – PhD student, Kharkiv National University of Radio Electronics, Kharkov, Ukraine.
2014 – Ph.D in radio physics from the Kharkiv National University of Radio Electronics (NURE).
From 2013 to 2016 N.P. Stognii has been working at NURE as Assistant Professor at the department of higher mathematics. From 2017 to the present time –  Associate Professor.
Educational activity
She gives lectures and practical works in "Higher Mathematics" at Faculty of Іnfocommunications (training in Ukrainian and English).
Research activities
Scientific work
Mathematical modeling, nanophotonics, plasmonics, non-stationary electrodynamics.
International activity
IEEE member since 2011, # 91262229;  SPIE member since 2014, # 3651577.
Treasurer of Ukrainian Joint Chapter of IEEE AP/MTT/ED/AES/GRS/NPS, 2014-2018.
State Awards
Awards and Achievements:
Apr. 2011 – IEEE Antennas and Propagation Society Doctoral Research Award,
2012 – EurAAP Travel Grant for attending EuCAP-2012 in Prague,
2012 – DAAD Research Fellowship, University of Jena,
2012 – ONRG Travel Grant for attending TACONA-2012 in Bad Honnef,
2012 – Travel Grant of EuMA for attending the EuMIC – 2012 in Amsterdam,
2014 – URSI Yong Scientist Travel Grant for attending URSI-GASS-2014 in Beijing,
2017 – Awards for the best presentations of YSF-2017.